Eglu Cube
Eglu Cube Chicken House
The new Eglu Cube is the ideal way to keep up to 10 chickens in a town or country garden. It is based on the same revolutionary technology as the original Eglu with slide out dropping trays, hose clean surfaces, twin walled insulated, no maintenance and our No Foxes Allowed protection. The Eglu Cube makes is easy to keep a larger number of hens in your garden and leaves you with more time to enjoy the pleasures of owning chickens.
A Complete Package
The Eglu Cube comes complete with everything you need to get started including wheels. It is fitted with roosting bars and has an integrated nesting booth. To make collecting your eggs easy, the Eglu Cube has an eggport which gives access to the nesting box.
Low Maintenance
Upkeep of this fantastic chicken coop is made easy via the innovative slide-out dropping trays and fully removable lid and back panel. Unlike wooden housing, you do not need to treat your Eglu Cube - saving you time and money. Made from energy efficient polymers using modern construction techniques, the Cube will last for years and at the end of its life can be 100% recycled.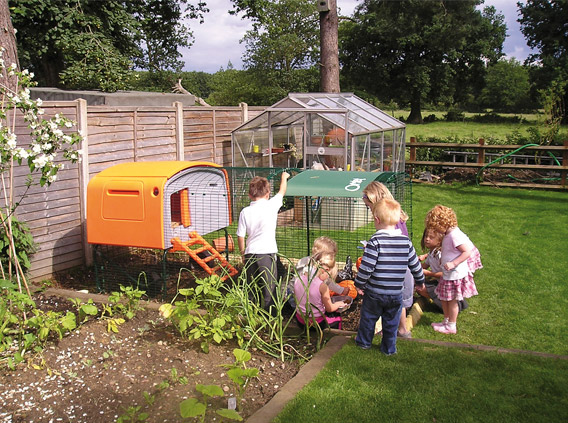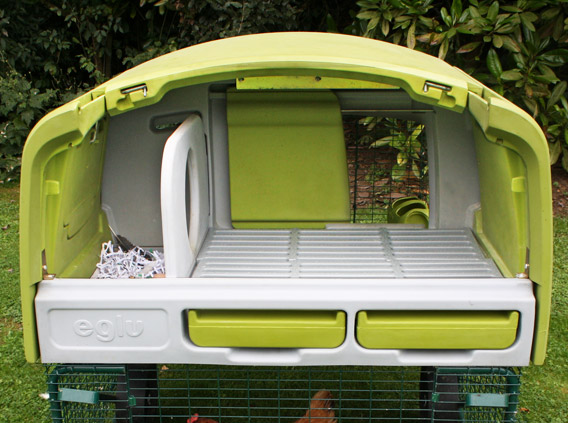 Easy To Clean
The Eglu Cube makes light work of the weekly clean. Inside chickens have a large roosting area fitted with a slatted floor. All the droppings fall through the slats onto the slide out dropping trays, which can then be simply emptied onto the compost heap.
The lid and back panel can be removed to give good access to the inside of the house for a complete clean. The smooth plastic surfaces can be washed with a hose or pressure washer.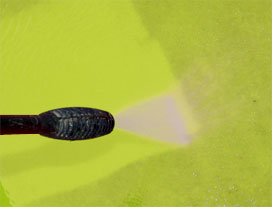 The Fox Resistant Run!
The Eglu Cube is a really flexible chicken house, whether you want to keep 5, 6 or even 10 chickens, you can customise it to suit your needs. The standard 2 meter run is suitable for up to 6 chickens. The run can be extended in 1m lengths to suit your requirements allowing you to keep up to 10 chickens.
The optional (yet recommended) standard 2m run is made from strong steel weld mesh, impossible for predators to break. A unique anti-tunnel skirt sits flat on the ground and prevents animals from digging in. The run has spacious vertical sides and gives your chickens plenty of room. You can extend the run in 1m sections if you wish. The Eglu can be positioned on grass or any other surface such as wood chippings or rough ground where the chickens can rummage.
The unique tunnel-proof panels have been proven in rigorous testing to be fox and badger resistant. The run means that when you are out and about you can be sure that your chickens are safe. The dark green PPE coating is fused to the metal wires ensuring an extremely durable finish that looks great.
Easy Operable Front Door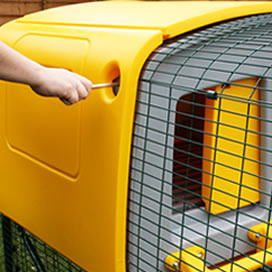 Letting your chickens out in the morning or securing the Eglu Cube at night couldn't be simpler. Using the handle on the side of the Cube you open and close the door, locking and unlocking is done in one intuitive movement. No fiddly catches or bolts that don't line up. The Cube also comes with its own ladder so your chickens won't have to ruffle their feathers whilst walking down to breakfast or climbing into bed.
Nest Box and Roosting Bars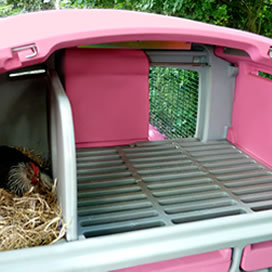 More chickens means more eggs and the Eglu Cube has a spacious yet secluded nesting booth where up to 3 chickens at a time can lay in comfort. The freshly laid eggs can be conveniently collected through the egg port which is on the side of the house.
Eggport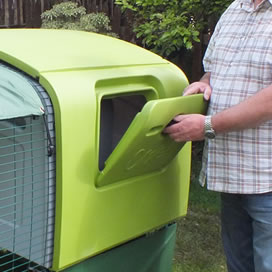 Collect your eggs easily using this very simple egg port on the side of the Eglu. Collecting your eggs every morning is such a thrill. You will get between 8-12 eggs per week from 2 hens.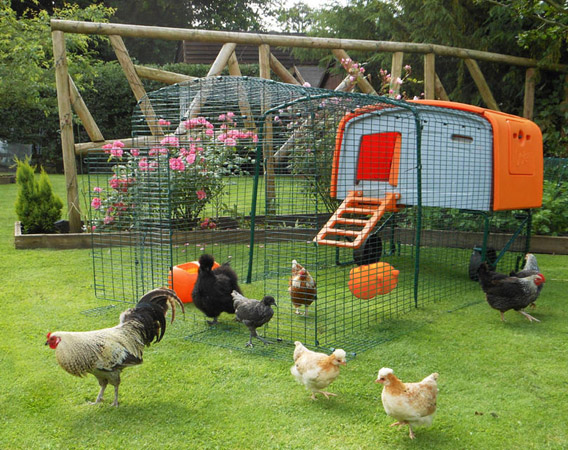 Extendable Run
You can give your chickens even more space by adding a 1m run extension to your Eglu Cube. It is made of the same strong steel weldmesh with a durable coating and anti tunnel skirting. Each extension comes as three panels - two sides and a roof as well as a support arch made of coated steel tube (the same material as the legs under your Cube.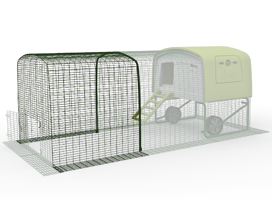 Easy To Move
You can move the Eglu Cube on your own effortlessly around your garden using the special puncture-proof wheels and easy to operate lever mechanism to lift the Cube.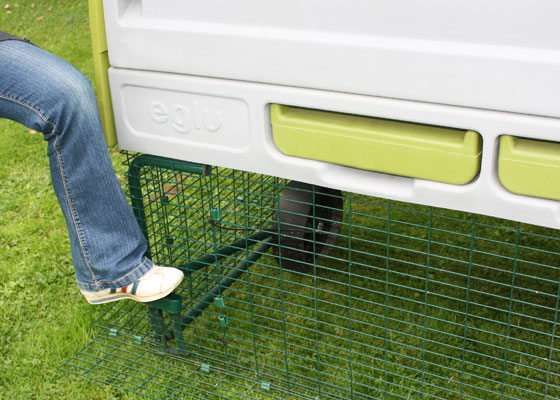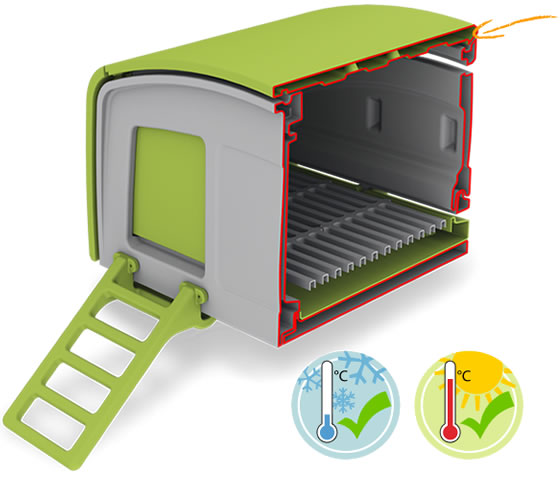 Warm in Winter
The Eglu Cube is specially designed to keep your chickens warm in winter. The Eglu has a unique twin-wall insulation system which works in a similar way to double glazing.
Cool in Summer
In summer your chickens will be kept cool by the Eglu Cube's draught-free ventilation system, carefully designed to avoid air blowing directly over the roosting area whilst allowing fresh air to circulate.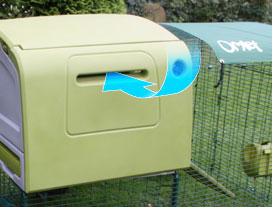 Six Great Colours
Available in six fantastic colours, you can blend the Eglu Cube into your garden in green or make a statement in pink or purple. Whichever colour you choose you can be sure that it will look great in your garden now and in years to come.

Free extras with every Eglu Cube
When you buy an Eglu Cube you also get over £50 worth of accessories absolutely free! Not only that, we're so confident you'll love everything about the Eglu Cube and your new chickens we offer a 30-day, no-quibble money-back guarantee.
Designed Feeder & Drinker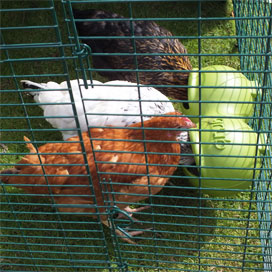 Created for use with the Eglu Cube run, these food and water containers clip neatly onto the run, maximising floor area and are dishwasher proof. The covered design of the Grub prevents food from being spoiled by the rain as well as minimising wastage. You can gain access to these easily using the Runs' Mesh front door.
All-Weather Shade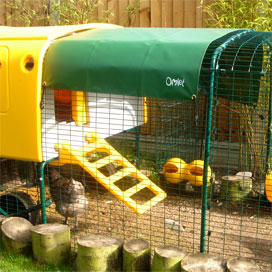 Like ladies at Ascot during a downpour, chickens don't like getting their plumage wet. Luckily the all weather shade is a perfect gentleman protecting your chickens from wind and rain. What's more in summer this useful device keeps the delicate ladies out of the heat of the midday sun.(This shade comes free only if you are buying an Eglu with run.)
10 Free Egg Boxes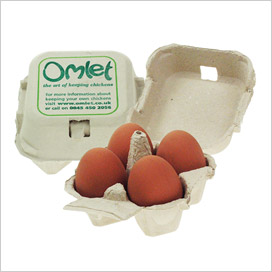 You will soon find that your home grown eggs are in high demand from friends and family. You will be able to make giving them even more special with your own egg boxes!
The Omlet Guide to Keeping Chickens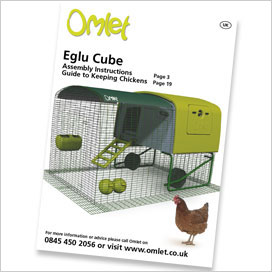 Written by Omlet and packed with straight-forward tips on looking after chickens, the guide is an invaluable information source for the beginner and advanced user alike.
30-Day No-Quibble Money-Back Guarantee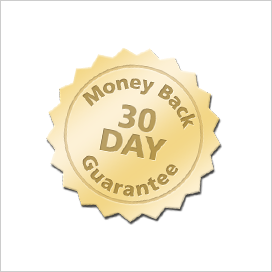 If for any reason you are not entirely satisfied with the Eglu Cube or the chickens you can send it back to us for a full refund. This does not affect your statutory rights.
And Let's Not Forget… Free Supply of Eggs!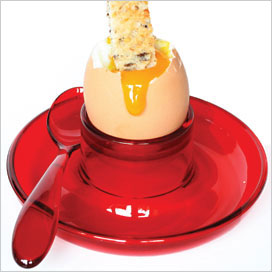 Each chicken will reward you with an egg most mornings. What could be better than that?
How much space do I need to keep chickens?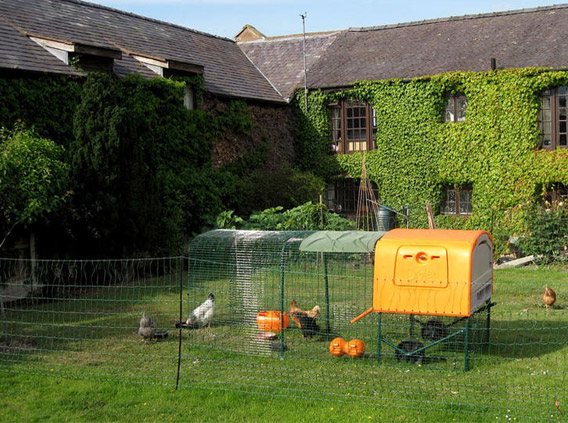 Ideally your garden should have a fence all the way round, this will prevent your chickens wandering into the neighbours garden and, more importantly, ensure that all the eggs are laid on your side of the fence! The fence should be about 1.5m (5ft) high.
If you do not have grass, it is possible to keep a couple of chickens but you must provide them with a layer of wood chippings to rummage about in as this will provide them with the right type of surface underfoot.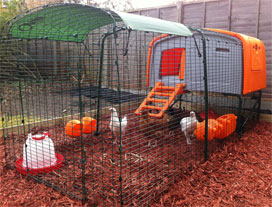 Eglu Cube Specifications
The Eglu Cube House is suitable for 10 medium sized chickens or 6-8 larger breeds such as Buff Orpingtons or Cochins. When setting up your Eglu, you should allow 60cm of space around house to allow the dropping tray to slide out easily and the door to be accessed.
Materials:
House: 100% Recyclable UV Stabilised Polyethylene, Powder-Coated Steel
Run: Fully Coated Welded Steel Mesh
Packaging Dimensions:
House Box A: 128cm x 85cm x 23cm (25kg)
House Box B: 128cm x 70cm x 20cm (14kg)
House Box C: 100cm x 89cm x 30cm (21kg)
House Box D: 85cm x 24cm x 57cm (16kg)
Run: 115cm x 116cm x 36cm (16kg)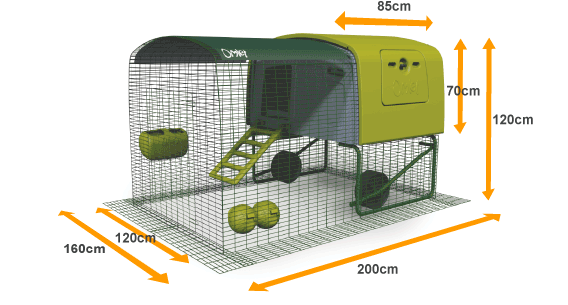 To buy your Eglu Cube then click here to be taken to our shop